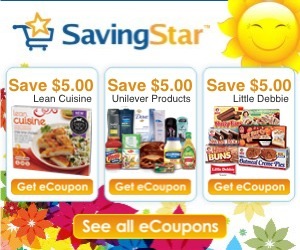 Have you signed up for
Saving Star
yet? If you haven't taken the time to read about and understand the program ... it's pretty awesome!
SavingStar
is the first national, fully digital, grocery eCoupon service, available for free and on iPhone and Android Mobile Apps. There's nothing to clip, nothing to print.
You'll want to head over and
check out the participating stores in your area
, but they have some great ones like CVS and Kroger!
Here's how it works:
-Head over
HERE
and Sign Up
-Select the
eCoupons
you like and they'll link to your store loyalty cards
-Use your loyalty card at checkout (the total of your receipt does not change at checkout)
-Your money is automatically added to your
SavingStar
account within 2-30 days (they email you when your savings post
-Pick your payout (once you save $5, choose your payout option from Bank Deposit, PayPal, Amazon Gift Card)
It's that simple! So rather than getting a discount at checkout like a coupon, you receive MONEY BACK in whichever account your opt.
Keep up with the freebies, coupons and discounts!
Subscribe
Now!